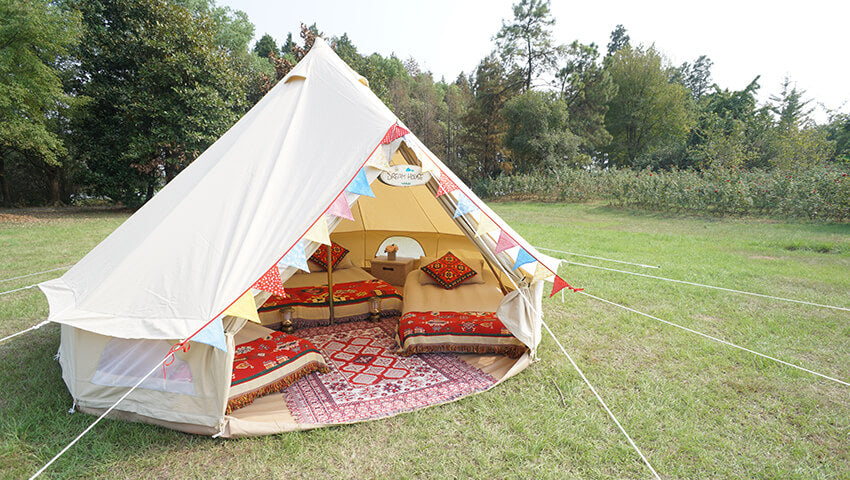 Summer is here, more and more people like to go for camping out there. Today, we are going to share some experiences we had on camping outdoor with glamping tents.
1. Make sure your bed is cozy and comfortable
The big difference between camping outdoor with usual tents and glamping tent is about the bed. The usual way of camping is bringing the flat sleeping bag with you together. Well, for glamping tent we suggest you to bring soft blankets and fluffy pillows (or even a bed) with you for better sleeping experience out there in the nature.
2. Play around with lighting
We tried this out the last time we camp. We brought a lot of candles and some classic vintage design lamp to decorate around our camp. It looks cool and romantic especially if you are going to camp with your love ones.
3. Matches and Campfire
4. A good camping experience, it's all about the food
Yeah, it's always about the food. Our team suggested that it's important to have nice food during camping. We had prepare coffee, wine, potatoes, marshmallow, sausages and more. We have each breakfast, lunch and dinner prepared and we are very satisfied with the coffee for breakfast and wine for dinner.
5. Things to do around the camp
We have planned out every time the activities that we are going to do around the camp before we go. We always considered about the location of the camp site before we plan for our activities. (For tips to choose a camping site https://dreamhouse-tent.com/blogs/news/tips-for-choosing-a-camping-site) The reason is because the activities you could do nearby a campsite is affected by its location. Some of our favorite activities are fishing, playing Frisbee, hiking and swimming.
These are the some of the experiences that we had during our camping experiences. We hope that it might help you out while you camp out there.
Jul 21, 2018

Category:

News
Comments: 0